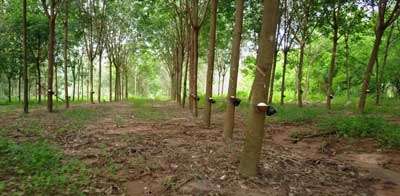 UK-based start-up iov42 and Singapore-based Double Helix Tracking Technologies have tied up to create and test a new digital "Due Diligence Management Platform", co-funded by Innovate UK and Singapore government agency Enterprise Singapore. The aim is to help tackle deforestation in the sourcing and supply chains of commodities, including timber, pulp, paper, beef, cocoa, palm oil, leather, rubber and soya.
The new digital platform, using Distributed Ledger Technology (DLT), aims to help organisations importing into the UK to comply with the due diligence requirements set by the UK Environment Act 2021. This environmental legislation aims to establish clear statutory targets for the recovery of the natural world in four priority areas: air quality, biodiversity, water and waste.
What is being developed by iov42 and DoubleHelix will specifically target Schedule 17 of the UK Environment Act, relating to the "Use of Forest Risk Commodities in Commercial Activity".
Similar legislation to the UK's will apply to organisations wanting to import into Europe under the EU Deforestation Regulation (EUDR) and the US under the proposed US FOREST Act.
By combining iov42's technology – an evolution of blockchain – along with DoubleHelix's science-based supply chain verification processes, the companies say they will design, develop and test a digital "Due Diligence Management Platform" (DDMP), creating a shared, secure, and decentralised system that serves all impacted commodities and makes due diligence frictionless.
The DDMP will also interact with other data sets and technologies such as geospatial imagery and additional science-based testing methodologies.
Founded in 2016, iov4 is based on an evolution of blockchain, enhanced with several other pioneering technologies that make it simple, fast and secure. It is made up of 26 employees based across the UK and Europe.
Established in Singapore in 2008, DoubleHelix delivers practical solutions to help companies understand their product's impact and journey from forest, farm, factory, mill, or plant to the consumer. With in-country experts in Europe, Asia Pacific, Africa, North and South America, DoubleHelix engages with supply chains to collect, analyse, and verify data, assess risk, and implement mitigation measures on behalf of buyers, suppliers and investors.