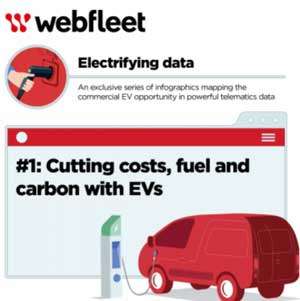 Data from Webfleet, tyre maker Bridgestone's fleet management solution, reveals that European fleets using electric vehicles (EVs) have saved on average EUR3,600 per vehicle per year. These businesses also saved 5,665 l of fuel and 15 tonnes of CO2 per vehicle per year.
Webfleet published this information in the first instalment of Electrifying Data, a series of reports that map the commercial EV opportunity in exclusive telematics data. The first report provides clear insights on the level of cost, fuel and carbon emission reductions that are made possible via fleet electrification.
The research also shows the differences in the average cost savings from country to country. In the UK and in the Netherlands, the annual cost savings per vehicle of switching to electric are more than EUR3,000, with EUR3,800 and EUR3,500 respectively. In Denmark, France and Spain, the figure is between EUR2,000 and EUR3,000 while in Germany, Italy and Poland it is up to EUR2,000.
Taco van der Leij, Vice President of Webfleet Europe said, "The significant cost savings shown in the Electrifying Data report emphasise why electrifying your fleet makes business sense. In Webfleet, you can access the Fleet Electrification Report, a feature that shows clearly which of your vehicles could be replaced with an EV. After fuel prices rose in March of this year, we saw a 300% increase in usage of this tool. So, it's clear electrification of fleets is top of mind for many businesses."
He added, "We want to show all fleets that making the move to electric mobility is not just good for the planet – it's good for your business too. And the sooner you make the move, the better for everybody."
Webfleet's EV fleet management solution is designed to help businesses at every step of the electrification journey from planning the switch and deploying EVs, to monitoring their usage, managing charging, reducing running costs and everything else that is needed to get the full value from going electric.