Malaysia's glove makers are benefiting from streamlining of operations, new investments, and net-zero collaborations to mitigate the impact of low demand, against the backdrop of a glut of gloves and expensive raw materials, says Angelica Buan in this roundup of the sector.
Gloves, engine of growth for rubber sector
The rubber industry is Malaysia's second-largest commodities sector after the oil palm sector. The industry's growth engine is the glove sector, a significant consumer of natural rubber. The sector saw record high demand for gloves during the Covid-19 pandemic. The World Health Organisation (WHO) had said that 89 million medical masks, 76 million examination gloves, and 1.6 million medical goggles were required per month to respond to the health crisis then.
Malaysia, a major global provider of rubber gloves, benefited from the spike in demand. Already, the country supplies 65% of the world's requirements for gloves.
According to the Malaysian Rubber Glove Manufacturers Association (Margma), global demand in 2022 was 399 billion gloves and Malaysia supplied almost 256 billion of these gloves. The value of export revenue was RM23.6 billion.
Since 2019, the Malaysia Rubber Council (MRC) has also observed an increase in demand. Glove exports totalled RM17.9 billion in 2019, more than doubling the previous year's figure of RM35.2 billion. Exports increased by 55.4%, but declined by 65% to RM19 billion in 2022.
Lacklustre performance in 2023
Meanwhile in 2023, glove exports were worth RM3 billion in the first quarter. Following the relaxation of pandemic restrictions, demand has certainly dropped.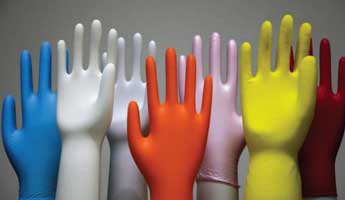 The Malaysian glove sector's first-quarter results were less impressive, earning it an "underweight" rating from Kenanga Research, and in its June sector outlook, it indicated that Malaysia's glove sector was struggling with fewer sales, higher pricing, and lower plant utilisation.
According to the research firm, outdated production facilities are also being decommissioned, which may relieve supply pressures in the sector.
On the other hand, there is still an excess of glove supplies, which implies that low prices and low plant utilisation will continue to afflict the market in 2023. As Margma predicted, this and other aforementioned problems are anticipated to hound the industry in the next quarter.
Nonetheless, according to Kenanga, the demand-supply imbalance will eventually improve, reaching equilibrium in 2025 when virtually no new capacity will be added while worldwide demand for gloves continues to climb. According to the analysis, global demand for rubber gloves is expected to expand at a rate of 12%-15% per year through 2023, despite persistent overcapacity.
MIDF Research noted that challenges for glove makers will persist in the near term, as excess supply of gloves in the market continues to affect the industry's average selling price and low utilisation rates, which fell from 35%-40% in the fourth quarter of 2022 to 32%-35% in the first quarter of 2023, less than half the rate in 2019.
The rising cost of raw materials has put a damper on production costs as well. According to MIDF Research, prices have risen for butadiene by 25%, acrylonitrile by 10%, and natural rubber latex concentrate by some 4.5%, mainly due to rising demand for synthetic rubber in downstream applications such as vehicle tyres, paint, shoe bottoms, and others.
Prices will remain high due to lower NR latex concentrate production throughout the rainy season and higher demand for butadiene and acrylonitrile.
Drastic measures to ensure long term capabilities
Local players are treating the issue with optimism and sternness as they navigate difficult waters.
The top glove producer in the world, Top Glove, which implemented "quality and cost optimisation initiatives", has decommissioned obsolete production lines and temporarily halted production at 17 of its 49 factories (43 in Malaysia, five in Thailand, and one each in China and Vietnam), among other measures it has taken, including implementing a manpower restructuring, to consolidate its operations amid weaker global glove demand.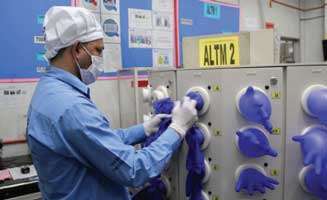 The decommissioning of production lines eases the production capacity by 5 billion pieces of gloves, bringing Top Glove's total production capacity to 95 billion pieces of gloves.
Top Glove has devised a turnaround strategy targeted at increasing sales volume, improving quality, consolidating facilities, improving employee efficiency, strengthening cash flow position, and optimising supply chain.
Despite the challenging business environment, Top Glove stated it remains upbeat about the longterm prospects for gloves in the healthcare and food industries.
Meanwhile, close competitor, Hartalega Holdings is also decommissioning its Bestari Jaya facility, in Selangor, which the glove manufacturer claims, has grown inefficient and is limited by outdated technologies, as well as higher energy, maintenance, and labour costs. The decommissioning of the Bestari Jaya complex, which has four manufacturing plants and has been operational since 2004, is planned to be completed by the end of 2023.
The decommissioning is expected to reduce operating expenses, improve cost optimisation, and boost operational efficiencies. Following the procedure, the business anticipates a RM347 million impairment loss for the fiscal year 2023, as well as a RM70 million provision for retrenchment costs and contract obligation charges in 2024.
Meanwhile, Hartalega expects to improve its operational efficiency and focus more on its production lines at its facility in Sepang to cater for future expansion.