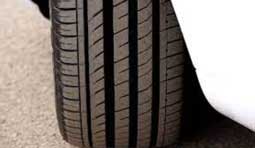 AVAPCO, a subsidiary of GranBio Technologies, says that it has been awarded US$500,000 in funding from P3Nano, a public private partnership between the US Endowment for Forestry & Communities and the USDA Forest Service (USFS), along with an additional US$230,000 from the USFS under a separate program to advance scale-up and commercial introduction of the Nanocellulose Dispersion Composite (NDC) rubber masterbatch for the tyre and rubber goods markets.
The breakthrough NDC masterbatch is the result of a four-year joint development programme between Indian carbon black maker Birla Carbon and GranBio, designed to address growing sustainability demands from the tyre industry in terms of improving both tyre rolling resistance and vehicle fuel economy through enabling the incorporation of sustainable, bio-derived nanocellulose into commercial rubber compounds.
P3Nano's funding program targets projects designed to advance the commercialisation of cellulosic nanomaterials. Under the competitive award, the companies will demonstrate continuous scale-up of production of the NDC at GranBio's Biorefinery in Thomaston, Georgia, for anticipated full-scale factory and on-road tyre trials by global partners within the tyre and mechanical rubber goods industries.
Under the additional competitive award from the USFS's Wood Innovations program, designed to expand and accelerate market growth for wood products,  the companies will prepare an engineering package, market analysis, and financial modeling for the first NDC commercial plant.
"The NDC project demonstrates how Birla Carbon continues to drive innovation in sustainability supporting our ambitions and those of our customers," said John Loudermilk, CEO, Birla Carbon. "The partnership with GranBio allows us to 'Share the Strength' in support of our aspiration to achieve net zero carbon emissions, including the development of novel materials from biomass."
According to Bernardo Gradin, CEO of GranBio Technologies, "The NDC is a key example of GranBio's mission to "Enable Net Zero" solutions through the development and deployment of sustainable biomass-based technologies across the biofuels, biochemicals, and advanced biomaterials sectors. The partnership with Birla Carbon materializes a common strategy to enable net-zero emission in tires and the automotive value chain."
Birla Carbon is a leading global supplier of carbon black. As one of the flagship businesses of the leading Indian multinational conglomerate, Aditya Birla Group, Birla Carbon's footprint extends across 12 countries with 16 manufacturing facilities and two technology centres in Marietta (USA) and Taloja (India).
GranBio Technologies is a subsidiary of GranBio Investimentos S.A. (São Paulo, Brazil), an industrial biotechnology company focused on developing renewable technologies to enable biomass-based net zero emission solutions for biofuels, biochemicals, and advanced renewable materials, including nanocellulose and colloidal lignin.
The United States Endowment for Forestry and Communities, Inc. (the "Endowment") is a not-for profit corporation that works collaboratively with partners in the public and private sectors to advance systemic, transformative and sustainable change for the health and vitality of the nation's working forests and forest-reliant communities.