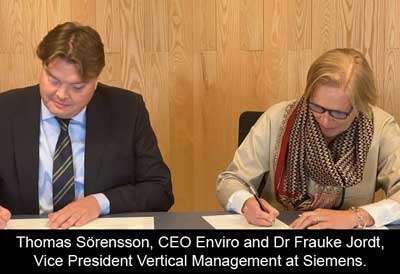 Tyre recycler Scandinavian Enviro Systems and tech firm Siemens have signed a MOU regarding a collaboration in support of the European expansion plan that Enviro announced earlier this year together with Antin Infrastructure Partners. Through the collaboration, Enviro gets access to Siemens' experience in automation and digitalisation for efficient industrial production.
Together with Antin Infrastructure Partners, and with the support of French tyre maker Michelin, Enviro has formed the world's first large-scale tyre recycling company and with the plan to establish recycling facilities in Europe by 2030 with a total annual recycling capacity of 1 million tonnes of end-of-life tyres by 2030. The first plant, located in Sweden, is expected to be fully operational by 2025.
Siemens is already today a supplier of both hardware and software to the tyre industry and, with its focus on sustainability and digitalisation, has a great interest in supporting Enviro during the upcoming phase of broad industrialisation, it adds.
The Siemens MOU was signed in connection with a recent Siemens NordX Circle seminar, focusing on sustainability and digitalisation, where Enviro's CEO Thomas Sörensson was one of the speakers.
"With the formation of the tyre recycling joint venture company, Enviro has acquired the right industrial structure and the right partner company to be able to seriously take part in the transformation of the tire industry towards increased sustainability. As a supplier and partner, Siemens wants to support the new tyre recycling company and thereby help accelerate the important journey towards increased sustainability," says Maria Grahm, Business Unit Manager Process Automation at Siemens Digital Industries.
The core of the tyre recycling company's upcoming industrial expansion is Enviro's proprietary and module-based recycling technology that makes it possible to extract valuable raw materials from used tyres, including carbon black and oil. The volume of end-of-life tyres is growing steadily and amounts to 3.5 million tonnes/year in Europe alone.
"Digitalisation and automation will be central to the rollout of our technology and we are convinced that Siemens can add extensive valuable knowledge in the field," says Thomas Sörensson, CEO of Enviro.