The new Smart #1 will come factory fitted with EcoContact 6 Q tyres from Continental. The tyre manufacturer says it has received worldwide original equipment approval for the Smart #1 in tyre sizes 18 and 19 inches. The full-electric city SUV is the first Smart model developed by the joint venture between Mercedes-Benz and Chinese carmaker Geely.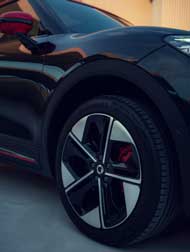 The EcoContact 6 Q is designed for exceptionally energy-saving and quiet driving. The special rubber compound minimises energy absorption while the vehicle is in motion, which reduces friction and rolling resistance. Continental's developers also improved the tyre tread to further reduce rolling noise. The EcoContact 6 Q is also characterised by its exceptionally long service life, outstanding braking performance and superior handling – all thanks to its specially modified blocks, sipes and side grooves. In addition to short braking distances, the premium tyre offers grip on dry and wet roads and excellent cornering stability even at high speeds.
For more than ten years now, Continental's developers have been optimising their tyres to achieve ever lower rolling resistance, low rolling noise and long service lives – with zero compromise on safety. As a result, all tyres developed by Continental not only fulfil the specific needs of electric vehicles but also help to reduce combustion engine emissions over the long term.
The following products and sizes are approved for the Smart #1 in numerous countries:
EcoContact 6 Q, 235/50 R18 101V XL
EcoContact 6 Q, 235/45 R19 99V XL