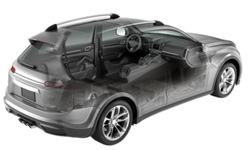 US materials science company Dow has launched MobilityScience Studios, which are touted to be cutting-edge facilities aimed towards providing faster and more effective solutions for acoustics, sealing, powertrain, and fluid system components.
The first two studios, located in Midland, Michigan and Lake Jackson, Texas will be used to support the development of innovative transportation technologies, Dow said. The collaborative workspace features a world-class suite of testing capabilities focused on acoustic and powertrain solutions for fast-moving automotive applications. These enable Dow to create tailor-made noise, vibration, and harshness (NVH) and sealing, powertrain, and fluid transfer system solutions unique to any specifications.
The MobilityScience platform is expected to foster collaboration to provide customers with solutions ranging from custom product formulations to factory line implementation.
Automotive OEMs and tiers collaborating in MobilityScience Studio – Acoustics in Michigan will have access to Dow's materials portfolio (polyurethane foams, elastomers, resins, coatings materials and specialty chemicals) and can work alongside Dow experts.
Dow said that it has engineered Acoustimize methodology to be used in the Studio, which delivers a holistic evaluation of targeted cavity fill applications to generate quantitative data to understand the acoustic performance of polyurethane materials.
Such information has been utilised in the fabrication of Dow's Specflex Systems and Betafoam Acoustic Foams. In addition, the Studio features Dow's breakthrough acrylic liquid applied sound damping (LASD) technologies, which are reported to offer sustainability, process, and acoustic performance advantages over standard sound damping systems such as bituminous pads and viscoelastic materials.
Meanwhile, the Texas-based MobilityScience Studio focuses on the development and commercialisation of sealing, engine, and fluid transfer system components like weatherstrips, belts, and hoses. This Studio, in particular, will act as a catalyst for the development of Dow's next generation of Nordel EPDM products, providing the industry with even more ethylene content options.

In related news, Dow has collaborated with mobility and intelligent technology Human Horizons on a world-first mobility and transportation application of silicone leather in the latter's luxury SUV model HiPhi X.
The new silicone leather was developed using cutting-edge liquid silicone rubber technology to provide stain resistance, a soft touch, and exceptional weatherability. Also used are odourless and low volatile organic compounds (VOC). According to Dow, this revolutionary silicone leather product may be used in industries with more stringent material requirements, such as automotive, yachts, aviation, medical research, furniture, and children's rooms. The synthetic leather will be used to upholster the seats on the all-electric HiPhi X. It is designed for usage in harsh automotive interior environments.