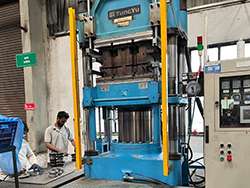 UK-based Dellner Polymer Solutions, part of Sweden's Dellner Group, has announced the acquisition of Ferrabyrne Autocomp Suspension Technologies (FAST), the tier 1 parts and assemblies manufacturer based in Pune, India.
The acquisition, part of Dellner Polymer Solutions strategic growth plan, will help to build on Dellner Polymer Solutions engineering and production capabilities, complementing the existing teams in Littlehampton and Burton Upon Trent.
The acquisition is expected to open up a significant market opportunity for Dellner Polymer Solutions in India, creating technologically advanced vibration control rubber fabrication and bonding solutions for a global market supplying rail, off-highway, defence, marine and other industries.
Mikael Petersson, CEO of Dellner Polymer Solutions, said "This is a really exciting acquisition for Dellner Polymer Solutions, and will support the strategic growth of the business, bringing additional capabilities and skills. It demonstrates the ambition, commitment, and dedication to supporting new and existing clients and markets. We look forward to welcoming the team to the Dellner family at what is an exciting period of ambitious growth and development."
The latest acquisition comes at a time when Dellner Group says it is experiencing an impressive period of growth and momentum, building on its established reputation to create an enhanced offering that will allow continued success in the global market.