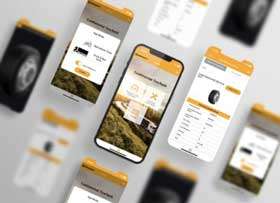 Optimal tyre inflation pressure and the right tyre selection mean the best possible tyre performance and the greatest possible fleet efficiency. What sounds so simple is not always easy to implement in the price-driven day-to-day business of fleets. Continental therefore supports fleet operators, dealers and service technicians in maximising the safety and efficiency of their tyres with the TireTech mobile app for agricultural tyres, which is now available as well for truck and bus tyres.
The Continental TireTech app can be downloaded free of charge for iOS and Android. It provides quick and easy access to up-to-date tyre and service information for Continental's full range of tyres for agricultural and commercial vehicles. The app makes its content available in multiple languages, is ready to use within seconds of installation, and can be easily configured to meet users' individual needs, says the firm.
Amongst the features offered is an integrated Pressure-Load Calculator, which helps users to determine the correct pressures for each tyre based on the vehicle axle load and tyre size. The database of technical tyre data and library of supporting images provide another powerful function. Plus, the technical data can also be accessed without an internet connection.
A contact form completes the service app's offering, enabling customers to directly reach Continental's technical service team.
"With the Continental Tire Tech app, we are continuing to digitalise tyre maintenance services," says Catherine Loss, Head of Technical Customer Services EMEA at Continental.