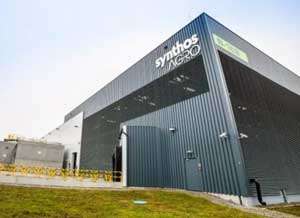 Synthetic rubber maker Synthos has issued a statement to say it "is deeply disappointed" by the sanctions on synthetic rubber announced by the EU in February, the first anniversary of the war between Russia and Ukraine, which are only to take effect next year.
In response to the Russian invasion of Ukraine, the EU has included sanctions on imports of synthetic rubber from Russia in its 10th sanctions package. The decision introduces synthetic rubber import quotas of 562,973 tonnes until 30 June 2024, after which imports will be banned.
The quotas are considered higher than pre-war imports, "which self-evidently makes this sanction meaningless" it adds.
It furthered, "Synthos is not only disappointed with the continued support of Russia, but also believes that the EU Commission has missed an important opportunity to protect the European chemical industry and its workforce, especially as the chemical industry in Europe is threatened and undergoing massive restructuring in light of the continued influx of low-cost materials from Russia."
"We know from our own experience that sanctions are not easy, and we faced financial consequences after deciding to stop all procurement from and sales to Russia in February 2022. But sanctions are not meant to be easy. They are primarily designed to prevent hard currency from flowing into Russia and to support ongoing Russian aggression – explains Matteo Marchisio, Business Unit Director, Synthetic Rubber.
"In addition, we believe that the current sanctions do not support the European chemical industry, which is facing a difficult time and needs to restructure massively due to the influx of lower-cost materials from Russia. We believe that the EU has missed an opportunity to take responsibility and protect its own chemical industry."
Synthos says it has publicly supported Ukraine since the beginning of the Russian invasion of Ukraine and recently advocated for strict EU sanctions to stop the flow of money to Russia.
With this statement, Synthos urges European rubber consumers to reconsider their purchasing strategy and join those market participants who have used the last 12 months to effectively turn away from Russia, thereby reducing financial support to Russia.