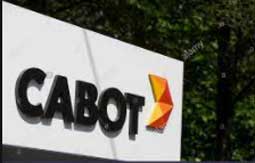 US carbon black maker Cabot Corporation says that it plans to add conductive carbon additives (CCA) capacity in the US to enhance its position in the market and support the transition to electric vehicles (EVs). Cabot plans to add conductive carbons capacity at its facility in Pampa, Texas, which is part of an approximately US$200 million planned investment program over the next five years focused on expanding the company's CCA production in the US.
As part of its investment plans, Cabot expects to invest approximately US$75-90 million to produce 15,000 tonnes/year of conductive carbons at its existing facility in Pampa, TX. This project is expected to create approximately 75 high-quality jobs and is expected to commence operation at the end of calendar year 2025. In addition to a manufacturing plant, Cabot also operates a research and development facility and pilot plant in Pampa that focuses on developing new process technology for battery and other applications.
The adoption of EVs plays a key role in the decarbonisation of the economy, and the US government has announced targeted efforts to build a domestic EV battery supply chain. As part of these efforts, federal and state governments have implemented a variety of programs in the form of grants, loans, and tax incentives. Cabot believes that many of these programs present potential funding opportunities for the company in its efforts to expand CCA production capacity in the US.
CCAs are an essential component of lithium-ion battery chemistry and are used to provide sufficient electrical conductivity to the active materials. Cabot has the broadest portfolio of CCAs including conductive carbons, carbon nanotubes (CNT), carbon nanostructures (CNS), and blends of CCAs to deliver optimal performance. Additionally, the company's global footprint of manufacturing assets, technology labs and commercial resources enables regional supply security support for its customers.
Demand for critical battery materials, such as CCAs, for EV batteries is expected to continue to grow in the range of 20 to 30% globally over the next five years. Growth potential in the US is expected to outpace global growth as penetration of EVs accelerates in the coming years.
Cabot says it is committed to meeting the expected growing demand from its customers in the US and helping to onshore critical battery components such as CCAs.
Cabot also intends to make additional investments to expand its US manufacturing and technology footprint over the next five years with plans to invest in new CNT powder and dispersion capacity and to continue extending its portfolio of innovative products for battery applications.
"We are at a pivotal moment as the vehicle fleet transitions from internal combustion engines to electric vehicles. CCAs are essential materials to make EV batteries work and expanding battery capacity and building a domestic materials supply chain are critical for the growth of EVs to be realised," said Sean Keohane, President/CEO.
"We are bringing together a powerful combination of conductive carbon and CNT technology to provide optimal performance and formulation flexibility for our customers. We believe our technology position, along with our existing network of plants and talent, uniquely positions Cabot to support the growth expectations of our customers here in the US. Our planned investments will help support the electric vehicle transition and solidify Cabot as a global leader in CCAs for battery applications. These investments are expected to build on the strong momentum we generated in fiscal year 2022, where EBITDA in the product line was US$29 million with a year-over-year increase in revenue of 74%," he added.