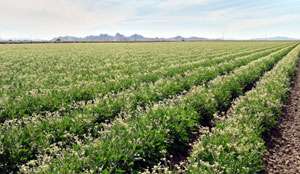 Bridgestone Americas says it has been awarded a US$35 million climate-smart grant by the US Department of Agriculture (USDA) to further cultivate and scale the use of desert shrub guayule as a sustainable way to expand natural rubber production in the US.
Part of the USDA Partnerships for Climate-Smart Commodities initiative, the US$35 million investment in guayule will allow Bridgestone to expand natural rubber production in the Southwestern US with lowered greenhouse gas emissions and water use for growers amid the ongoing regional water crisis — and creating jobs in the region for local farmers and Native American tribes to build a rubber bioeconomy based on climate-smart and sustainable practices.
The viability of guayule as a sustainable, domestically produced alternative to imported tropical rubber has also been explored by Ford and tyre maker Cooper; as well as companies including Patagonia, for use in wetsuits.
"We have been committed to guayule as a domestic source of natural rubber since our research initiative in this desert shrub began in 2012, to offer a more sustainable solution for both our environment and economy," said William Niaura, Director of Sustainable Materials and Circular Economy at Bridgestone Americas. "By participating in this larger industry-wide initiative led by the USDA, we can continue our commitment to establishing a natural rubber industry domestically in a climate-smart way, alongside other industry leaders who are similarly dedicated to sustainable commodity production that will provide meaningful benefits for domestic growers."
The USDA Partnerships for Climate-Smart Commodities was established to expand markets for climate-smart commodities in the US; scale the climate benefits of more sustainable commodity production; and provide direct, meaningful benefits to farmers — including for small and underserved producers. Bridgestone was among the first pool of recipients of the funding opportunity.
Bridgestone will use the grant funds to attract additional guayule growers in the Southwestern US among local farmers and Native American tribes, to cultivate a domestic natural rubber industry with a climate-appropriate crop. The company says it will also work to educate growers on implementing climate-smart growing practices of to help enable carbon sequestration in desert soils, water utilisation, soil health, and nutrient delivery and ecological benefits of guayule.
The US$35 million in grant funds will be disbursed through a five-year period from 2023-2027 and is designed to reduce overall costs for guayule growers.