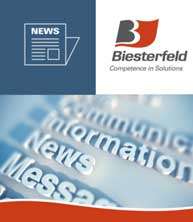 German chemicals distributor Biesterfeld is expanding its partnership with compatriot chemical firm Evonik by taking on the distribution of rubber additive Vestenamer to all of Europe with the exception of Italy.
The properties of trans-polyoctenamer rubber (TOR) make it suitable for use in a wide range of applications, for example rollers, hoses, profiles, seals, drive and conveyor belts, cable sheathing, floor and roof coverings, moulded and foamed materials, shoe soles and medical stoppers. The product is also increasingly being used in rubber recycling, which means that it is also found in railway crossings, floor coverings, mats and traffic control systems.
Vestenamer is said to be a versatile specialty product consisting of linear and cyclical macromolecules and offering outstanding properties for the rubber processing industry. The semicrystalline rubber has an unusually low viscosity: above the melting temperature of 100°C, it has Mooney viscosity values of less than 10. The product has a high macrocycle content (>30%) and a low molecular weight compared to basic rubber polymers. It also contains a double bond on every eighth carbon atom, allowing the polymer to be co-vulcanised with all common types of rubber.
"The new agreement will enable us to strengthen and expand our long-standing and successful cooperation with Biesterfeld. We're delighted to be working with an experienced and established partner who can ideally position our product on the market and drive forward the continued success of Vesternamer," says Peter Hannen, who leads the Powders & Specialties segment at Evonik.