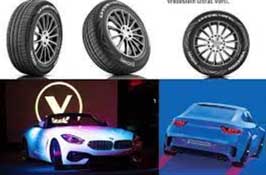 India's Apollo Tyres is now manufacturing its Vredestein brand of tyres in India for the superbike and premium and luxury passenger car segments. The tyre manufacturer had acquired the European brand in 2009 and launched it in India with a range of imported tyres for premium and luxury passenger cars. Apollo had previously said that it planned to locally manufacture tyres from the premium brand in India.
Vredestein tyres will be manufactured at Apollo's facility in India, and cater to the premium and luxury segment in passenger cars, while the two-wheeler tyres from the brand would cater to the growing superbiking segment in India.
Vredestein, which is known for its high-quality tyres, will be launched in the 15- to 20-inch size for the passenger vehicle segment. While Vredestein Ultrac Vorti will cater to premium luxury sedans from Mercedes-Benz, BMW, Audi, Land Rover and Volvo, the Vredestein Ultrac would aim to be shod on premium hatchback and sedans like Honda City, Maruti Suzuki Ciaz and Baleno. Vredestien two-wheeler tyres – Centauro NS and ST – will cater to the entire sport touring and super sports range of motorcycles from BMW Motorrad, Ducati, Aprilia, Triumph, Kawasaki, Suzuki, Honda and Yamaha.
The passenger vehicle range from Vredestein carries a signature touch of automobile designer Giorgetto Giugiaro, while the two-wheeler range has been designed by famous Italian design house Frascoli Design. Apollo says the tyres being introduced in the Indian market have been tested across major tracks in Europe and India.
Commenting on the launch of Vredestein brand in India, Neeraj Kanwar, vice-chairman and managing director, Apollo Tyres, said, "India has been witnessing a high growth in the premium and luxury segment of cars, and also in the superbiking segment. This has prompted us to introduce this 100-plus-year-old brand Vredestein for the Indian customers."
Apollo Tyres will use its existing network of business partners, especially premium Tier I counters, to sell the Vredestein brand of tyres. Going forward, the company may consider setting up specialist counters for the Vredestein brand. As a new market entrant into India, Vredestein benefits from access to Apollo Tyres' trained and robust sales and service network across the country.
Vredestein has been operating in the replacement market primarily in Europe and the US markets. Recently, the company started supplying Vredestein tyres to brands like Audi, VW, SEAT and Ford. Similarly in India, Apollo Tyres will sell Vredestein tyres in the replacement market initially and will also leverage its association with global OEMs to have Vredestein ultra-high performance tyres as OE fitment.