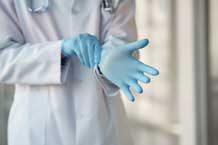 The Malaysian Rubber Glove Manufacturers Association (MARGMA) is reportedly urging the Government to permit glove factories, specifically in Selangor, to operate under the Enhanced Movement Control Order (EMCO). It has emphasised the necessity of gloves in curbing Covid-19 and transmission of infections during this pandemic.
According to MARGMA President, Dr Supramaniam Shanmugam, following the implementation of the Enhanced Movement Control Order (EMCO) in Selangor, concern on gloves supply has been raised among their global customers.
"There is a big fear going around the global healthcare sectors when our Minister announced the possibility of a shut-down of the glove industry as the medical gloves are sorely needed to protect the front-liners and hospital staffs, " he said, adding that the emergence of new coronavirus variant has hospitals and healthcare workers expecting a secure supply from gloves makers.
"MARGMA members collectively produced and exported gloves to 195 countries around the world and Malaysian manufacturers played a big role in humanity's response as the largest producer of gloves as a medical device, supplying 67% of global consumption. "Supramaniam said.
He also cautioned against disrupted supply because of EMCO, hence the association is calling for an urgent meeting with the Ministry of International Trade and Industry (MITI) to work together to address concerns by all parties involved, he said.
"We are urgently calling for a meeting with MITI to resolve issues surrounding the imposed EMCO as 58% of all gloves produced in Malaysia comes from the glove manufacturers located in Selangor", Supramaniam said. He also stated that MARGMA members have been urged to assist in the supply of gloves to hard-hit nations including India, Pakistan, Bangladesh and many other South American nations.
"As Europe and America move towards a recovery phase, members are gearing up to meet the demand of the non-healthcare sectors such as food handling, industrial, cleanroom laboratory, dermatology, tattooing among all," he said.
"The global demand for gloves in 2021 is expected to remain at 420 billion pieces, with 13,318 pieces used every second around the world, and grow between 15-20% next year, " according to Supramaniam.
Assuring that MARGMA members are prioritising safety, he said that they have agreed to vaccinate all employees at their company's own costs . "All glove employees, besides being registered for the National Immunisation Programme on MySejahtera, are registered with the Public-Private Partnership Industrial COVID-19 Immunisation Programme, Selangor Vaccination Programme and Vaccination Programme for the Agri-commodity Sector, " he added. Manufacturers are also willing to shoulder the cost of test kits, which the Government should make available , "the soonest possible time". He is referring to the saliva-based Covid-19 test kit, which the organisation reasons will "greatly enhance the frequency of screening of workers."