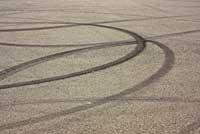 Indian tyre manufacturer Apollo Tyres (Apollo) has partnered with the Global Automotive Research Centre (GARC) test agency to establish India's very first tyre test track, for various tyre safety testing, in the southern state of Tamil Nadu. The review of tyres at the new test track is to ensure compliance with European tyre-labeling regulations and also to ensure safety and environmental efficiency of road transport by promoting fuel-efficient and safe tyres with low noise levels.Apollo has provided the technical expertise to ready the track for the testing of wet grip of tyres, according to a new Automotive Industry Standard, AIS 142 – it covers the evaluation of tyres and includes criteria such as adhesion on wet surfaces and rolling resistance.
The previous unavailability of approved test track facilities in India was a major impediment to the government's plan of implementing the "Star Rating" of tyres,but, TUV Rheinland, facilitator for automotive homologation, has now certified the compliance of the new test track in line with the stipulated conditions as in the United Nations Economic Commission for Europe (UNECE) regulations, specifically, UNECE R117/AIS 142.
Satish Sharma, APMEA President of Apollo, said the company seeks to further the cause of proper testing of tyres, thereby upping India's self-sufficiency in tyre technology and providing high-quality tyres to customers.
Daniele Lorenzetti, CTO of Apollo, also commented: "The new wet grip track by GARC and Apollo Tyres shows a very good level of correlation with test tracks in Europe, which will enable Apollo Tyres to reduce time to market for its products and testing costs."
Meanwhile, GARC Officer M.V. Ramachandran said the wet grip test facility will help vehicle manufacturers evaluate the performance of their tyres as per UNECE R117/AIS 142,made possible with the support of the National Automotive Testing and R&D Infrastructure Project (NATRiP), the Vehicle Evaluation Department of GARC and Apollo Tyres' test team.
Chennai-based GARC, which has fully-fledged R&D and homologation test facilities, including test tracks for all categories of vehicles, was established by India's Ministry of Heavy Industries and Public Enterprises, under NATRiP.