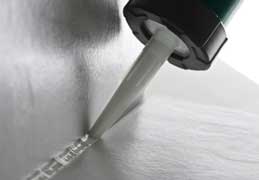 German chemical group Wacker says it is expanding its production and cartridge filling capacities for silicone sealants at its Nünchritz site, in response to growing demand. It has budgeted EUR20 million for the new manufacturing lines, which are scheduled to begin production in the fall of 2024. Construction is expected to start before the end of this year, subject to approval from the regulatory authorities involved. The expansion project will create additional new jobs at the site.
Though it did not mention the capacity increase, it said that the expansion project will "significantly increase" production capacity, adding that "depending on the grade, the new filling line will be capable of filling up to an additional 30 million cartridges/year".
Construction silicones are in high demand. Silicone sealants provide fast, reliable, long-term sealing of doors, windows, kitchens, bathrooms and walls. And they do more than simply protect critical building components from water, dust and moisture ingress. In times of climbing energy costs and continually increasing demands for energy efficiency, silicone sealing compounds are the product of choice in buildings to ensure comfortable interior surroundings and to minimise heat loss.
In recent years, development has been particularly dynamic for alkoxy silicones. These one-component neutral-cure silicone sealing compounds release alcohol upon crosslinking which renders them safe to use. They can also be applied on sensitive construction materials such as natural stone or metal. Alkoxy silicones are therefore versatile sealants for interior and exterior applications. Significant growth rates are anticipated in the coming years.
The project plan at the Nünchritz site sees construction of a fully continuous compounding plant for silicone sealing products including expansion of the cartridge filling facility. The new production lines will be built next to the existing plants. "We will integrate the plants into our production process fully utilising existing on-site filling capacities and logistics," emphasises Nünchritz Site Manager Jutta Matreux.
Room-temperature-curing silicone sealants can target a wide variety of sealing, bonding and coating applications. Construction silicones, for instance, are used for sealing bathroom facilities, windows and doors, masonry and natural stone joints and in aquarium assembly. Silicone sealants consist of polydimethylsiloxane, as well as a curing agent, fillers and additives.
After the sealant has been applied, crosslinking starts. Depending on the nature of the crosslinker, byproducts produced during the curing process are small quantities of an amine or acetic acid or – in the case of neutral compounds – alcohol or oximes. As neutral cure sealing compounds, alkoxy silicones release alcohol upon curing.
In 2020 Wacker began offering biomethanol-based silicone sealing compounds under the brand name Elastosil eco. These products differ from classic grades merely due to the source of the raw materials used. All other product properties are otherwise identical. Elastosil eco sealants are certified to the REDcert2 standard, which ensures that renewable raw materials can be traced through-out the manufacturing process, from the production of important pre-cursors up to the completion of ready-mixed silicone sealing compounds.
The fossil raw materials needed for production are replaced by biomass certified as sustainable. This makes Elastosil eco the first generation of sealant manufactured without petrochemical derivatives.