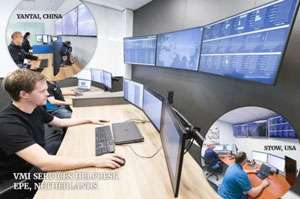 Dutch tyre manufacturing machinery maker VMI has launched three remote-monitored technical support centres, which it says will provide "consistent service to customers globally". The company said that three helpdesk units in Yantai, Shandong Province, China; Ape, Netherlands and Ohio, US; Will use similar technology to ensure "absolute stability at all times".
The centres are based on the "Asset Management" platform, which enables technicians to conduct remote monitoring, access the entire corporate knowledge of VMI's engineering teams and respond with appropriate solutions.
"We understand that regardless of location, clients need fast access to the best advice in support of key business priorities," said Eric Lapre, VMI VP Global Services.
He gave an example where he said, customers want to ensure that production is not disrupted, or to avoid quality issues such as excessive waste. "The fastest way to deliver this assistance is through remote service centres," he added.
According to Lapre, the centres can provide "best insight" and "practical advice" to clients to get their operations back on track.
The asset management platform enables new insights and experiences to be added to the database instantly.
Engineers can then collaborate with the customer to view the level of machine performance on site, "right down to the individual machine and component level."
They can also review required service standards, KPIs and all contract details at the same time.
With the permission of the client, VMI said it is able to conduct reviews at regular intervals and "continues to provide guidance and advice" to enhance asset performance.