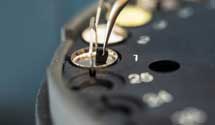 Vipal Rubber, together with Brazil's University of Caxias do Sul, and the Lodz Poland University of Technology, research the potentials of rice husk residue as a raw material for the rubber industry.
Material and Chemistry Engineer, Suélen Moresco who is with Vipal's Research team points out that remnants from rice production are utilised in thermoelectric power plants as fuel, and from this energy generation ashes from the burning of the residue are produced.
The study is in its internal laboratory validation stage. It will undergo further tests at the factory.  Vipal and its partners have already applied for the patent for the process.