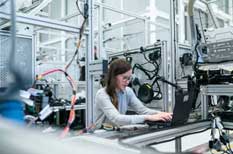 Among the key findings in Roland Berger's recent study "Steering through the semiconductor crisis: A sustained structural disruption necessitates strategic responses by the automotive industry" is a global semiconductor shortage that is expected to last beyond 2022 for the automotive industry; while it will last for several years for many other sectors. From 2020 to 2022, chip demand is expected to grow at a rate of 17% per year, while supply is expected to grow at only 6% per year.
Furthermore, the study finds that the most severe shortages are seen in older generation chips, or the legacy semiconductors which the automotive industry, given its current design philosophy, relies on.
Semiconductor manufacturers, on the other hand, have primarily focused their manufacturing capacity on newer, more advanced generations, implying that supply issues will persist.
The study noted a few mitigating actions to assist automakers in addressing shortages and shaping their future semiconductor supply chain management approach. Two strategic responses, in particular, would be critical for navigating the challenges, which include securing longer-term supply agreements with semiconductor companies; and expediting transition to centralised E/E architectures and associated supply chain shift/
The report showed that the gap between semiconductor supply and demand is getting bigger due to the structure of the current supply chain setup. The shortage of chips will persist into 2023 – and probably beyond. The capacity expansions that have been announced are not enough to meet demand.
Southeast Asia-based automotive OEMs will be equally impacted alongside global counterparts and need to look at ways to get around the current shortage.
Meanwhile, current distributed automotive architectures rely on legacy technology, often containing hundreds of microcontrollers (MCUs), each with limited computing power. The automotive industry is one of the primary users of legacy MCUs, which are manufactured in legacy and mature nodes, accounting for approximately 40% of market demand. New manufacturing capacity will not solve the automotive industry's massive supply shortage because investment is primarily focused on the latest generation of cutting-edge nodes.
Thus, there is a pressing need to accelerate the transition to new electronic vehicle architectures, thereby moving to advanced and cutting-edge nodes that are less affected by the supply crunch. According to technology and automotive industry experts interviewed for the study, traditional manufacturers will need more than five years to complete the transition.
Roland Berger also stated that Southeast Asian-based companies in the automotive industry and other sectors that rely on semiconductors must address the crisis aggressively. Long-term, the region's OEMs and suppliers must adapt their design philosophies to keep up with the semiconductor industry's dynamic capacity changes.