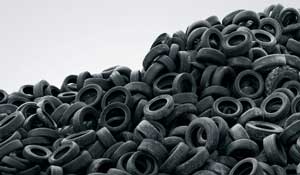 Swiss scale-up company Tyre Recycling Solutions SA (TRS), Préverenges, has chosen Buss's Compeo technology for implementation of its "Intelligent Compounding" concept, which transforms powder products obtained from recycled end-of-life tyres into compounds at industrial scale.
TRS's performance materials, which require a specific, proprietary compounding process of TPE/TPU based resins with recycled rubber powder, are said to bring a green transformation to a wide range of applications – from gaskets, logistics, automotive and construction industry to footwear and 3D printing.
After extensive market and technology research, TRS specialists chose Compeo compounding technology for its combination of powerful, low shear mixing with a conical discharge pump (CDP) unit for pressure build-up.
Buss' technical expertise in the handling of elastomers and the possibility of pilot scale production campaigns at the Buss Campus in Pratteln has helped TRS with the development and evaluation of their products until the commissioning of TRS' own compounding plant in early 2022.
Both companies are working closely together to grow the product platform globally and install further compounding plants within the TRS licensing universe. The successful implementation of this ground-breaking innovation represents a true, ecologically sound solution to remove the 1.5 billion scrap tyres discarded every year worldwide
By compounding the powder from waste car and truck tyres obtained by TRS technology into TPE/TPU resins, not only the tyre waste is recycled, but sustainable materials are generated which add value in a wide range of applications, adds TRS.
TRS was founded in 2013 in Switzerland and has developed Swiss proprietary technologies to process scrap tyres. The cornerstones of TRS' toolbox are rubber powder functionalisation technologies, powder chemical coating treatment, a water milling technology and intelligent compounding. TRS implements technologies and processes into tyre recycler operations, enabling them to become a supplier of a unique specialty chemical – TyreXol rubber powders.
Its in-house "Intelligent Compounding" concept is used to commercialise TyreXol rubber powders in specific market applications. As the youngest addition, TyreXol rubber powders are compounded with recycled thermoplastics to generate TyreXol TPE, with a recycling content of up to 98%.