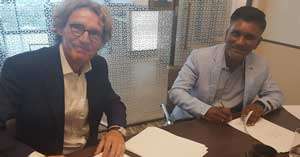 To grow within the Indian market, German rubber machinery maker Troester has set up a new subsidiary Troester India Pvt Ltd based in Chennai (Tamil Nadu) to focus on expanding the rubber business unit.
India is a steady growing market and is becoming more important for Troester and this has led it to establish a subsidiary to enable active presence in the local market, especially to provide service to its customers, to strengthen project management activities and technical support with experienced supervisors, electricians and software experts.
Troester says it has installed more than 45 extrusion units in the Rubber Business Division over the last years, in addition to the developed base of ex-HF and is present at all Indian tire manufacturer, spread over 20 plants across the country. It adds it has achieved excellent results this far – thanks to strong market partnerships. The focus will be on expanding this business area in terms of providing sustainable and innovative service solutions.
The company has hired Saravana Kumar as Managing Director for its Indian firm. Saravana has been active in the Indian tyre industry for over 18 years and is well known among industry partners and customers.

Troester President Peter Schmidt and General Manager Markus Wachter share the news of the expansion in the market during the "Global Tyre and Rubber Conference 2022" held at Chennai, with many of its key Indian customers.
"I am humbled and energised to work together with the extraordinary talents of the industry. The potential of this industry, opportunities for Troester to deliver to our customers and the growing demands are exciting. Our customers seeking service solutions in a sustainable and innovative way will be the major driver and added value for our company. With Troester already having a strong base in India, Troester India shall focus on constant improvement of our deliverables with new talents on board," says Kumar on taking on his new role with the Indian subsidiary.