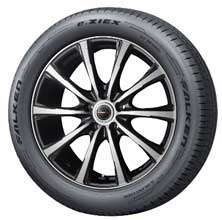 Sumitomo Rubber Industries (SRI) says that it will be launching Falken e. Ziex as a new line of replacement tyres for electric vehicles (EVs) in Europe, where the market for EVs has been growing at a rapid pace. Featuring fuel (energy) efficiency, it adds that the e. Ziex is its second line of replacement tyres designed for EVs, joining the ranks of Dunlop e. Sport Maxx, which it launched in China last year.
Low rolling resistance is an essential performance requirement of EV tyres, as lower rolling resistance means better energy efficiency, which in turn contributes to how far an EV can travel on a single charge. At the same time, batteries add considerable weight to EV, which means that EV tyres also have to bear much greater loads. In addition, EV engines run silently, which makes noise from the road and tyres all the more noticeable.
In order to fully respond to the distinctive needs of EV, e. Ziex takes full advantage of an innovative new rubber compound developed using its proprietary technology to achieve simultaneous improvements in fuel (energy) efficiency and grip strength. In addition, it has also optimised the tyre profile by reducing the tread width in the shoulder section (near the sidewall), thereby improving the uniformity of contact pressure for greater load resistance.
On top of that, the new tyre also incorporates the so-called Silent Core (Specialised Noise Absorbing Sponge Technology) to provide a quieter all-around ride.
As more and more people around the world take an active interest in environmental issues, the market for EV is receiving more and more attention on a global scale.
In response to these trends, the Sumitomo Rubber Group recently launched Dunlop e Sport Maxx as a new line of EV tyres in China, where the market for EV is growing.
Now, SRI says it is focusing on the needs of the European market with further improvements in terms of driving performance on wet road surfaces.
SRI says it has set targets of reducing rolling resistance by 30% and overall tyre weight by 20% (compared with 2019 levels) by the year 2027 and is already working to develop the next generation of EV tyres to achieve these targets.