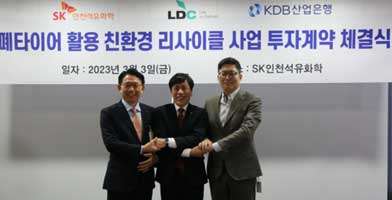 SK Incheon Petrochem, a a wholly owned subsidiary of SK Innovation, has acquired LD Carbon, a Seoul-based start-up with technologies for recycling waste tyres. The move is part of the oil refinery's effort to diversify its business portfolio to recycling, away from the traditional petrochemical sectors which are slowing down. Terms were not disclosed.
LD Carbon will build a pyrolysis oil facility using the investment from SK Incheon and supply to SK Incheon its pyrolysis oil. The petrochemical company will use the oil to make 20,000 tonnes/year of eco-friendly products in the first half of 2024.
The company said that Korea Development Bank will also help it by issuing new convertible bonds.
Established in 2017, LD Carbon is a materials company that owns technologies to make green carbon black, which is manufactured by refining and processing waste tyres.
In South Korea, about 400,000 tonnes of waste tyres are landfilled every year, causing soil and water pollution that is hazardous to the environment, the company said.
"With the latest investment in LD Carbon, SK Incheon Petrochem will be able to secure know-how on tyre pyrolysis oil to expand our position in the related industry," said SK Incheon Petrochem CEO Choi Yun-seok.