To address the need for important medical devices, new silicone technologies are being developed and made available, according to Angelica Buan.
Growth expected for silicone elastomers
As with all global elastomer markets, the silicone elastomers market also suffered a serious setback since the beginning of 2020. However, unlike other elastomer markets, the silicone elastomer market is rebounding rapidly, despite (or more importantly because of) the Covid-19 pandemic, says research firm Smithers in its latest report titled "The Future of Silicone Elastomers to 2026".
The silicone elastomers global market was 415,000 tonnes in 2016, and increased at a CAGR of 6.15% to 496,000 tonnes in 2019. Due to Covid-19, the global market is estimated to have fallen to 421,000 tonnes in 2020, but expected to grow to 556,000 tonnes in 2026, at a CAGR of 5.1%.
While transportation is the largest end-use sector, with 27.7% of the market in 2020; and forecast to increase to 28.1% in 2026, the medical sector is expected to buoy demand. This is because the advent of Covid-19 has seriously challenged the market for silicone elastomers, presenting positive opportunities in medical and automotive applications, but a reduction in other markets, adds Smithers.
Besides being used as replacements for some thermoplastic elastomers, silicones are also expected to see heightened demand for use in medical applications; automotive under-the-bonnet applications and as a support medium for flexible solar panels, the report adds.
Silicones make the medical grade
Single-use medical devices are in the spotlight as the quest for herd immunity from the coronavirus/Covid-19 continues. While the global situation remains challenging, patient care is focused on the most fundamental needs: hygienic, lightweight, low-cost, and easy-to-use devices. Without doubt, advancements in medical-grade materials such as silicones fit these criteria, making medical treatments more accessible and efficient.
Medical grade silicone has a high market demand for a variety of applications, from single-use disposable devices to more complex, implantable devices, due to its biocompatibility, sterilisability, durability, excellent conductivity, tensile strength, thermal stability, and other desirable properties.
As a result, this elastomer is being used extensively by leading industry players in the development of cutting-edge medical equipment such as dental instruments, prosthetics, pacemakers, and other drug delivery devices. With the increasing preference for medical-grade silicones, the market is set to grow exponentially. According to Global Industry Analyst audit, the market is expected to reach US$1.8 billion by 2027, up from an estimated US$1.3 billion in 2020.
Furthermore, silicones are widely used in the personal care, consumer products, construction, and electronics industries, fuelling the growth of the global silicone market.
Liquid silicone rubber (LSR), a popular material for single-use device parts, is ideal for sealing membranes, electric connectors, seals, and other medical applications due to its high microbiological and chemical resistance, good transparency, gas permeability, clarity, elongation feature, superior dielectric strength, and other material properties.
Concurrently, materials with additional qualities are increasing appeal in application development, in tandem with the rising use of silicone in these major industries. New techniques and technologies are also being developed to improve silicone functionality while also providing productivity and energy efficiency benefits to producers.
Antifungal silicones to curb infections
Antiviral agents, in addition to disinfecting surfaces, play an important role in preventing disease transmission. Taiwanese silicones specialist General Silicones (GS) offers its antifungal silicone sheets for protective coatings, which can be used in applications where surfaces are frequently handled and thus become a source of germ transmission.
Recently, GS's antifungal silicone rubber sheet for protective coating Compo-SiL obtained ASTM G21 certification from the SGS Hardline Laboratory in Taiwan.
Using standard PU (polyurethane reactive adhesives) and hot melt adhesives, the patented Compo-SiL technology enables ultra-strong and long-lasting adhesion to base materials and surfaces. According to GS, Compo-SiL is the only solution that uses pre-fabricated and cured silicone rubber sheets during mass production and installation work. Furthermore, the colour, texture, and feel can be customised as per customer requirement, and antifungal and antibacterial agents can be added on demand. Customers receive finished sheets in rolls for integration into standard manufacturing processes.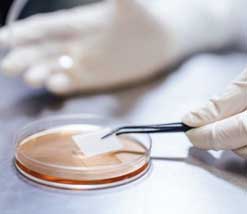 Because of its exceptional resistance to heat, extreme cold, and UV radiation, as well as the anti-slip properties added during manufacturing, the silicone product is suitable for outdoor use in humid environments. Being chemically inert to detergents and alcohol-based disinfectants, Compo-SiL sheets are suitable for giving antibacterial and antifungal protection to surfaces of tables, chairs, handrails, and door handles in public places.
Medical devices and facilities, public transportation, and elderly care facilities are some examples of applications.
Electrically conductive silicone compounds
Elsewhere, high consistency rubber (HCR) healthcare compounds have been developed by Novation Solutions (NovationSi), a materials science company that specialises in silicone dispersions. It uses a patent-pending technology that incorporates a revolutionary single-wall carbon nanotube (SG101) developed by Japanese synthetic rubber company Zeon Corporation.
The electrically conductive qualities of the cured product are considerably improved by effectively distributing Zeon's SG101 carbon nanotubes with NovationSi's PURmix HCR compounds. Medical gadgets that perform neuromodulation therapies on the human body are one practical application of this silicone technology.
According to NovationSi, the US FDA has already approved the first clinical application of these silicone compounds in the treatment of essential tremors, a neurological disease marked by uncontrollable and rhythmic shaking that can affect nearly any area of the body. Moreover, the compounds have been introduced to the medical device market for patients' use under physicians' care.
Many patients had a reduction in tremors as a result of the therapeutic breakthroughs made possible by this new technology, according to clinical studies related with this study.
NovationSi added that the technology is still in its early stages of development, but it is being improved by integrating with technologies of other companies. The likelihood that its application in medical devices would spur commercial development for wider industrial use is starting to emerge; and strong growth is expected in 2022.