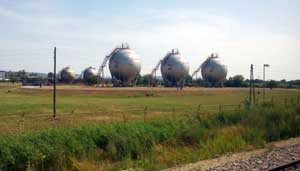 The acquisition of Serbian petrochemical company HIP-Petrohemija LLC Pancevo by Serbia's Gazprom-owned Naftna Industrija Srbije has been approved by the European Commission, said the EC.
HIP-Petrohemija LLC (HIPP) is a petrochemical company active in producing and distributing products such as ethylene, polyethylene and synthetic rubber. Naftna Industrija Srbije (NiS) is 56%-owned by Russian state-owned oil company Gazprom Neft, while Serbia and minority shareholders own the remaining 30% and 14%.
EC said that NIS' acquisition of HIPP raises no competition concerns given the companies' moderate combined market positions resulting from the proposed transaction.
The Commission added that the acquisition was examined under the simplified merger review procedure.
In April, EU member states decided that Serbia would be exempt from sanctions against Russia even if some of its companies were majority-owned by Russian companies.
This means that NIS, despite being majority-owned by Gazprom subsidiary Neft, remains exempt from such sanctions and could continue importing crude oil through Croatia via the Adriatic pipeline.
HIP-Petrohemija JSC, is the largest producer of petrochemicals in Serbia and an important company within chemical industry of Southeastern Europe. With its registered seat in Pancevo, its manufacturing facilities occupy 241 ha in industrial zone of Pancevo, in Elemir near Zrenjanin and Crepaja near Pancevo.
The production starts in Pancevo, in seven manufacturing and service facilities, with laboratories and the necessary supporting services. Here the production process of ethylene with co-products and polyethylene Hiplex and Hipten takes place. PE pipes and fittings plant is also situated in Pancevo.
In Elemir near Zrenjanin, in the synthetic rubber plant, a co-product from Pancevo – C4-fractions, is used as a raw material. Through its processing is generated 1,3-butadiene monomer, and then polymer – a synthetic styrene-butadiene rubber. On this site is also produced methyl-tertiary-butyl ether (MTBE), an additive for motor fuel. For the production of MTBE, a raw material raffinate 1 is used, a residue after processing C4-fractions.
In Crepaja near Pancevo is the PE compounds plant, where HDPE is produced.