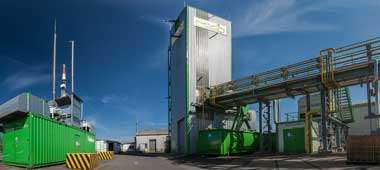 End-of-life tyre (ELT) recycler Pyrum Innovations says that it will construct a new pyrolysis plant in Homburg, Germany, after the Homburg City Council voted in favour of the sale of a city-owned property to Pyrum. The contract to secure the land is to be signed soon so that the planning and approval process for Pyrum's second own plant in Saarland can begin as soon as possible.
Like the Pyrum main plant also in Germany, in Dillingen, the new plant in Homburg will consist of three pyrolysis reactors, which will have a processing capacity of around 20,000 tonnes/year of ELT once completed.
The location offers numerous valuable advantages: In addition to the proximity to French tyre maker Michelin's plant in Homburg – from which Pyrum has already been recycling ELT for three years and with which the cooperation can now be expanded – and to German chemical firm BASF in Ludwigshafen – a strategic partner since autumn 2020 and a buyer of Pyrum's pyrolysis oil – the site has a railway siding that enables environmentally friendly logistics.
In addition, the new plant will free up capacities at the Dillingen plant that can be used for tyres from neighbouring Luxembourg without having to build a separate plant in the country.
Pascal Klein, CEO of Pyrum Innovations: "There are just two months between our first contact with Mayor Michael Forster in December 2022, which was initiated by the Saarland Economic Promotion Corporation, the presentation to the parliamentary party leaders in January and the unanimous approval of the city council across all parties. This speed is unique and we would like to thank the City of Homburg for its great support. We now want to start planning as soon as possible and are confident that the approval process will be as smooth as the expansion in Dillingen, as we are working with the same authorities."