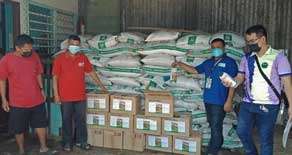 In the province of Zamboanga Sibugay, four agrarian reform beneficiary organisations (ARBOs) involved in rubber tree farming got bags and sacks of fertilizers and pesticides worth Php 2.8 million to help them improve their production.
ARBOs include the Timbabauan Agrarian Reform Beneficiaries Organisation (TIMARBENCO) in Tungawan, the Silingan Rubber Farmers Association (SIRFA) in R.T Lim, the Tambanan Agrarian Reform Beneficiaries Organization (TARBENCO) in Naga, and the Goodyear Agrarian Reform Beneficiaries Multi-Purpose Cooperative (GARBEMCO) in Kabasalan. Mohammad Dassan Adju, Provincial Agrarian Reform Program Officer II, said that the fertilizers and herbicides will help the farmers boost the quantity and quality of their products.
The farm supplies were delivered directly to the ARBO's respective warehouses under the supervision of DAR provincial office personnel as part of the International Fund for Agricultural Development (IFAD)-funded Project ConVERGE (Convergence on Value Chain Enhancement for Rural Growth and Empowerment).