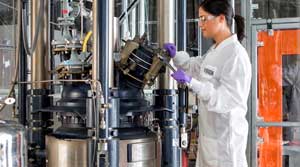 US carbon negative materials company Origin Materials and Intertex World Resources, a distributor of synthetic rubber, carbon black, process oils and rubber chemicals, have entered into a partnership to bring sustainable carbon-negative carbon black made using Origin Materials' patented technology platform to the rubber compounding and plastic masterbatch industries.
As part of the partnership, Intertex signed an offtake agreement with Origin Materials to purchase sustainable carbon black. Origin's carbon-negative carbon black, made from Origin's HTC, is a 100% bio-content filler and pigment produced from sustainable wood residues rather than petroleum, reducing carbon emissions and fossil resource consumption.
The partnership aims to produce carbon black for tyres including N660, N550, and N762 specifications, as well as for belts, hoses, rubber seals, plastic extrusion, and all other mechanical rubber goods markets. Origin and Intertex will work to develop a carbon black for automotive seal customers requiring high performance carbon blacks for rubber window seals.
"We are thrilled to partner with Intertex, a strategic sourcing leader with three decades' experience in product development and distribution," said Origin Materials Co-CEO Rich Riley. "This collaboration is a significant step forward in our mission to enable the world's transition to sustainable materials. We expect our sustainable carbon-negative carbon black to be deployed across a diverse array of applications to decarbonize the rubber and automotive supply chain."
"We are excited to work with Origin Materials on sustainable carbon black and believe it is a great time to partner with this forward-looking company," said Greg Sibley, Managing Partner for Intertex. "The world is looking for sustainable replacements for fossil-fuel based products, including carbon black, and we look forward to being at the front of this effort with Origin to bring those products to our valued customers. With our markets in tires, belts, hoses, and other mechanical rubber goods, all of which are looking for sustainable raw materials, we believe this partnership will allow us to give our customers a decided market advantage."