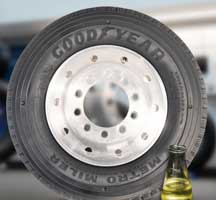 US tyre maker Goodyear has been working on its airless tyres for a while, and has finally been put them to the test on an electric vehicle. The company recently announced that prototype tyres have completed 75,000 miles of testing at speeds up to 100 mph, in temperatures ranging from scorching heat to snow, on a Tesla Model 3 at its Luxembourg proving grounds.
Also called non-pneumatic tyres (NPTs), airless tyres have lower maintenance requirements than conventional tyres, and are better able to handle heavy loads, according to Goodyear, which adds that since these tyres are impervious to punctures, putting more of these on the road means fewer tyres being disposed of.
Goodyear also believes airless tyres will be a better fit for vehicles beyond passenger cars, specifically autonomous shuttles that might be used by future mobility services to move people and goods around urban centres. Part of the development process will involve testing airless tyres on "autonomous vehicles and last-mile delivery robots," Goodyear said.
Goodyear plans to have these airless tyres on the road by 2030.
Goodyear said it's aiming for US Department of Transportation approval of its airless tyres, but noted that this is "still several years away." And given the company's interest in catering to mobility services, the first applications might not be personal cars.
Meanwhile, Goodyear has also announced replacing a portion of the petroleum-based materials used in production of some of its most popular Metro Miler city transit tyres with a bio-based soybean oil compound.
"The use of soybean oil in the majority of the Metro Miler G152 and G652 tires in production today is a significant Goodyear innovation that reduces the amount of petroleum-based materials needed for production," said Dustin Lancy, commercial product marketing manager, Goodyear North America. "In these tyres, soybean oil replaces about 11 liquid ounces of free-flowing petroleum oil per tyre – almost as much as a traditional soda can. Multiply that by a bus fleet of 1,600 buses, about the size used by some major metropolitan cities in the US, and that could mean the use of around 20 fewer barrels of oil."
The Metro Miler G152 and G652 also feature technology designed to resist sidewall damage, enhance toughness and provide long tread life. Reinforced shoulders and steel sidewalls help deliver long casing life, and the integrated sidewall wear indicators make it easier to spot wear due to excessive scuffing. These tyres also include a multi-compound, scrub resistant tread that can stand up to the rigors of transit applications and extend tread life by resisting excessive wear, chunking, cracking and chipping.
The Metro Miler G152 and G652 tire models made with soybean oil are currently in production and available now for ordering among customers looking for tyres made with more sustainable materials.