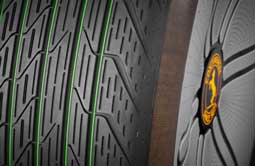 Continental's ground-breaking Conti GreenConcept tyre design (previously introduced at the Munich auto show) combines current and new technology methods to the development of sustainable passenger car tyres. The study's purpose is to reduce resource usage in every step of the tyre value chain. As a result, the study included everything from raw material sourcing and procurement to various phases of manufacture and even techniques to extend the tyre's service life.
Continental's has devised novel solutions to each of these three issues, resulting in a tire with a high percentage of traceable, renewable, and recycled materials, an innovative, lightweight design that conserves valuable resources, and a tire with a longer service life thanks to a renewable tread.
More than half of the raw materials used in the production of Conti GreenConcept are either renewable or recycled. Continental aims to fully convert to sustainable raw materials for all of its tyre manufacturing sites by the year 2050. All materials that originate from closed-loop cycles, have no detrimental effects on people or the environment, and are responsibly sourced as well as climate-neutral across their whole supply chains are defined as "sustainable" by the premium tyre maker.
Conti GreenConcept is likewise made up of 35% renewables. Natural rubber from dandelions, silicate from rice husk ash, and vegetable oils and resins are among the bio-materials used, all of which result in a significant reduction in crude oil-based components. Continental's global tyre-making factories already utilise a variety of alternative materials, such as recycled rubber and vegetable oils, in addition to natural rubber.
The tyre maker is said to advance of sustainable material cultivation and processing. Continental, for example, is conducting extensive research into the usage of Russian dandelion with partners at its site in Anklam, Germany. The idea is to be able to grow natural rubber near the company's tyre manufacturing, reducing carbon emissions from long-distance transportation while also conserving vital resources.
Conti GreenConcept is also made up of 17% recycled components, including reclaimed steel and recovered carbon black, as well as polyester from recycled plastic bottles for the tyre's casing, which is an industry first. Continental plans to gradually roll out its ContiRe.Tex technology beginning in 2022, clearing the path for the production of tyres made from polyester yarn derived from recycled PET bottles.
The recycling technique eliminates the need for conventional intermediate chemical processing, and the resulting polyester yarn is then operationally capable of handling the enormous mechanical stresses that tires are subjected to. Used PET bottles are given a new lease of life as polyester high-performance material as part of the so-called upcycling process. Each passenger automobile tyre is made up of around 400g of polyester yarn. A total of over 60 recycled PET bottles can be utilised in the production of a set of four tyres.
The particular blend of materials made possible by COKOON – a technology developed by Continental in collaboration with Kordsa for the environmentally friendly bonding of textile reinforcements with rubber compounds – is another aspect of the Conti GreenConcept sustainability equation. Since 2019, the two partners have been making this technology available to all tyre industry stakeholders for free, in the spirit of open-source collaboration.