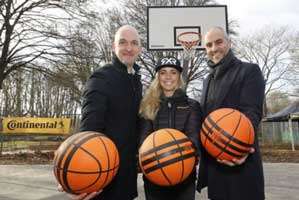 Tyre manufacturer Continental came together with a selection of partners to officially open a new basketball court in the Linden-Süd district of Hanover, Germany, recently. But this is no ordinary court – the playing surface has been constructed using 200 recycled racing tyres from the sustainable Extreme E electric racing series, which Continental supports as a main sponsor.
"These tyres raced in Saudi Arabia, Greenland and Senegal. And now, in the form of a basketball court, they are helping to bring young people together and get them excited about sport," explains Christian Kötz, Member of the Executive Board Tires at Continental
The court was created as part of a collaboration between the city of Hanover, property construction company Hanova, the BasKIDball project, the VIA Linden and Serve the City Hannover associations and the SV Linden 07 club, on whose premises the half-court has been built. Elastomer processing company REGUPOL handled the transformation of the tires into rubber paving blocks, and the court was assembled by Hanover-based company Kretschmer.
With the first few passes on the court, Kötz and Onay duly handed it over to the kids and young people from the BasKIDball project, a Germany-wide initiative that aims to use sport to break through barriers and shine the spotlight on the social side of group participation.
Continental's tyres sector is pursuing a holistic approach to sustainability across all phases of the tyre value chain and has set itself the mission of becoming the most progressive tyre company in terms of environmental and social responsibility by 2030.