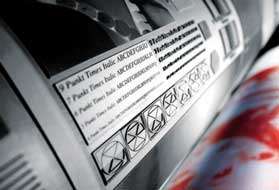 German tech firm Continental has fully acquired the printing technology business of Trelleborg, a company headquartered in Lodi Vecchio, Italy. This strategic step expands the technology company's range of surface solutions in the field of printing technology at the same time as boosting its business with industrial clients. Terms were not disclosed.
As a result of the acquisition, Continental will gain approximately 600 employees at eight locations – in Italy (two), France, Slovenia, the US, Brazil, Japan and China – who mainly produce printing blankets for offset and digital printing.
Continental employs around 800 people at three sites – in Germany (two) and China – to develop and manufacture a range of products. These include precision printing blankets for sheet-fed and web offset printing under the Conti-Air and Phoenix Xtra Blankets brands, flexographic printing forms for direct engraving (Conti Laserline) and elastomer-coated materials for a wide range of applications in other industries.
Sven Hlywiak, who heads the global industrial activities outside the automotive sector in Continental's Surface Solutions business area says the product portfolios of the two companies complement one another.
Hlywiak is also confident that the merger will yield positive results for all the locations of both partners and their employees. "Two global players are joining forces. Not only do the products complement each other, the employees of the two companies are also united by a corporate culture of openness and respect. This will result in even better products and services – at competitive conditions, for the benefit of our customers."