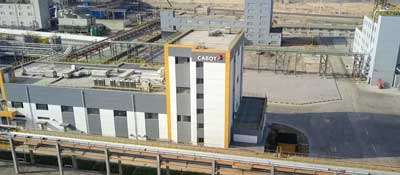 US carbon maker Cabot Corporation has announced it has achieved International Sustainability and Carbon Certification (ISCC) PLUS certification at six of its facilities. It claims it currently has more ISCC Plus certified sites than any carbon black manufacturer and has ambitions to expand certification throughout its global network.
Sites currently certified include three reinforcing carbon facilities in Europe and the Americas as well as two masterbatch and compounding facilities in Europe and the company's Europe, Middle East and Africa regional headquarters. Achieving ISCC Plus certification furthers Cabot's commitment to advancing circularity and traceability, helping its customers achieve their sustainability goals by delivering sustainable solutions at a global scale.
Across the globe, companies have announced ambitious sustainability goals to support the transition to a more circular, net-zero economy. Many industrial manufacturers have committed to the use of materials linked to recovered or renewable materials and are looking for certified materials that accelerate the circular economy as well as reduce greenhouse gas (GHG) emissions. Products manufactured at Cabot's ISCC Plus certified facilities adhere to ISCC PLUS requirements by leveraging circular value chains and certified feedstocks in the product manufacturing process.
Cabot also recently launched its Evolve Sustainable Solutions technology platform, which is designed to deliver products that offer sustainable content with reliable performance at industrial scale. Cabot currently offers two ISCC Plus certified products, Vulcan 7H-C circular reinforcing carbon and Sterling SO-RC110 circular reinforcing carbon. These products are produced via a mass balance approach designed to trace the flow of materials through a complex value chain.
"As a leader in our industry, it is critical that we take actions as a company that progress our 2025 sustainability goals as well as ambition for a lower carbon future while ensuring our solutions also help our customers achieve their own sustainability objectives," said Aatif Misbah, vice president and general manager, Sustainable Solutions.
The company anticipates expanding the platform to other businesses within its portfolio and is focused on developing new sustainable solutions for use in additional specialty applications such as plastics.