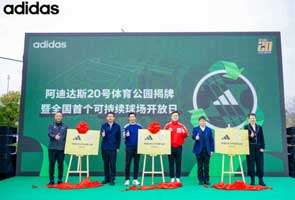 Germany's Adidas has unveiled what it says is the first sustainable football stadium in Chengdu, capital of Sichuan.
A total of 40,000 pairs of discarded sneakers were turned into recyclable materials made of TPU (thermoplastic rubbers) and repurposed as nearly 800 sq m of ground cushions, chair cushions and entrance floor mats. Meanwhile, shoelaces were also given a new lease of life and repurposed as goalpost nets in the stadium. The project was undertaken in partnership with former Chinese footballer Zou Yougen,
Located in the heart of the Jiangan River Ecological and Cultural Tourism Belt in the Wuhou district, the new facility known as 'Adidas No.20 Sports Park' occupies a floor space of 30,000 sq m. The space comprises of an eleven-aside football field, an eight-aside football field, and Adidas' first sustainable five-aside football field in the country.
Also installed are facilities such as athletes' lounge rooms and indoor comprehensive gymnasiums, which will benefit an estimated 36 educational institutions including universities, middle and primary schools within 5 km and surrounding residents too.