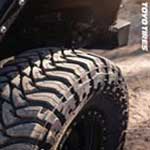 Japanese tyre manufacturer Toyo Tires (Toyo) is to build its first European research and development (R&D) centre in Willich, Germany, by the end of the year to strengthen product development, which goes in hand with next-generation mobility. The new centre is to combine material research with technology development to ensure the continuous development and production of high-performance, high-value-added tyres in the new plant, also developed on the site.
Toyo earlier announced its decision to build a functional tyre plant in Serbia by January 2022 to facilitate its expansion into Europe, home to large numbers of top-ranking automobile manufacturers and automobile-related companies. As a solid base in Europe would be beneficial to Toyo, especially in terms of the quality and fresh information, Toyo's technology centre will thus expand its capability of collecting market information on tyre-related materials, and the latest technology of tyre products.Further,Toyo will enhance development among the current R&D centres and the new European centre by combining and sharing knowledge and information collected.
Toyo seeks continuous enhancement of its products with regards to tyre compounding, production method, assessment and simulation technology. While Toyo already has technology development sites in Japan and the US, the ambition has prompted a study of future expansion of the R&D function in Europe, beyond its current site.