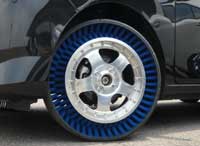 The development of Noair, Toyo Tires' sixth-generation airless tyre technology, is progressing smoothly as it defies the needs of conventional tyres, which are typically filled with air for weight-bearing and to absorb impacts. Airless tyres instead use special high-rigidity resin spokes to fulfill the roles traditionally provided by air.
According to the Japanese tyre manufacturer, the latest Noair design incorporates an x-shaped spoke configuration that crosses from the inside of the tyre to the outside, to provide improved durability when compared to the elliptical spoke configurations of previous airless tyre designs. The new spoke design further enables the tyre to better disperse contact pressure and mitigate the sound thus emitted.
The sixth-generation Noair tyres maintain their basic tyre performance metrics – Toyo Tires will nevertheless continue work on the technology and improve on issues that present with airless tyres.