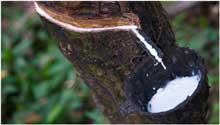 The global rubber market is expected to grow at a CAGR of 4.66% during the period 2017-2021.
The latest trend gaining momentum in the market is bio-based tyres helping market growth. The tyres used in automotive vehicles are going to be bio-based during the forecast period. There is a great turmoil in the rubber industry to manufacture automotive vehicle tyres made from renewable raw materials.
Companies such as DuPont have been working on the use of renewable raw materials, which can be used to manufacture tyres. DuPont Industrial Biosciences is working to develop a product known as BioIsoprene, which is a bio-based alternative for petroleum-derived isoprene. BioIsoprene can be used to produce synthetic rubber, which is regarded as an alternative for natural rubber and other elastomers.
One of the major drivers for this market is the growing demand for rubber in APAC. APAC accounted for the largest market for rubber consumption in 2016 and is expected to be the fastest-growing market for rubber consumption during the forecast period. Countries such as Indonesia, India, Vietnam, Thailand, and China will also witness a high rubber consumption. China was the world's largest rubber market in 2016. China will continue to be the largest consumer of natural rubber in the world, accounting a 36%-39% of the natural rubber consumption by 2021. China uses 80% of its natural rubber to manufacture tyres. Indonesia and Malaysia are the major markets for natural and synthetic rubbers.
The high production of natural rubber in these countries is expected to increase the growth of the rubber market. The rising demand for tyres in the automotive sector is a major factor that is encouraging the growth of the rubber market in APAC.
Key vendors are Bridgestone, ExxonMobil, MICHELIN, Sri Trang Agro-Industry and the Dow Chemical Company. Other prominent vendors include Advanced Multitech, Ansell and Asahi Kasei Advance Corporation.