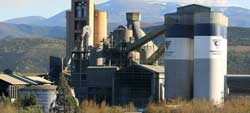 Cement company Cementos Cosmos will be able to use waste tyres as alternative fuel source (tyre-derived fuel; TDF) in its production process following the granting of an Integrated Environmental Authorisation. The move will allow Cementos Cosmos' Toral de los Vados cement plant, in Spain's León municipality, tore place about 30% of its current petroleum coke fuel usage with non-hazardous waste tyres.
The TDF usage could significantly reduce the company's energy bill and CO2 emissions while promoting a circular economy. In addition, with the incorporation of used tyres, Cementos Cosmos contributes to reducing the consumption of a finite fossil fuel such as petroleum coke.
Cementos Cosmos applied for the authorisation from the Ministry of Environment in February 2018 and following a two-year approval process, the cement producer joins other Spanish cement plants in using alternative fuels.