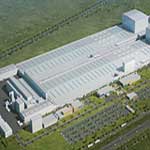 South Korean tyre manufacturer Nexen Tire (Nexen) is making headway into the European market with the official opening of its new plant in Zatec, Czech Republic, come August 28, 2019. The ceremony will commemorate the next stage of Nexen's global advance and strengthen its Czech-Korean business partnership, under 'The New Wave for the Future' vision.
Nexen's US$1 billion European plant is located within Zatec's Triangle Strategic Industrial Zone on 650,000sqm of land, forming a technologically integrated manufacturing centre that can immediately apply the cutting-edge technologies of its global research and development. The plant has been operating since the end of April 2019 and just recently celebrated its first shipment of tyres.
The company's global research and development and production network now comprises of the Nexen UniverCity Research Institute in Seoul; the European Research and Development Center; the North American Research and Development Center; and the European plant in Zatec.As the production capacity of the Zatec plant is expected to increase to 11 million by 2022, it will thus cement Nexen's presence in the European market.
Reportedly, Petr Ocko, the Czech Deputy Minister of Industry/Trade, and Travis Kang and Byung-Joong Kang, the Global CEO and the Chairman of Nexen Tire respectively, will attend the opening ceremony of thehigh-end facility.
Travis Kang, Global CEO of Nexen Tire, said, "With the opening of the Europe plant, Nexen Tire plans to develop, produce and distribute products customised for the European market – with completion of our four global institutions, Nexen Tire will be presenting products suited to our global customers, especially in Europe."