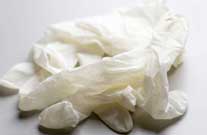 Malaysian Rubber Glove Manufacturers Association (MARGMA) President Dennis Low expects the country's rubber glove exports revenue to grow even more than MARGMA's earlier forecast of RM20.68 billion as global demand increases by 15-20%. Malaysia's rubber glove exports will likely chart a demand growth of 230 billion pieces, up from 192 billion pieces last year, as the world battles the deadly novel coronavirus (2019-nCoV) – the World Health Organisation (WHO) has recently declared the outbreak as a global health emergency.
The coronavirus contagion was first reported in Wuhan, China, in December last year and is currently infecting 28 countries and territories worldwide. Over 35,000 cases have been confirmed, including 15 in Malaysia, while the death toll has reached some 700 people.
Low anticipates demand to surge with the world taking up "about 320 billion pieces of rubber gloves this year as compared with 298 billion pieces last year." Citing the Influenza A (H1N1) pandemic in 2009, Low said the demand for rubber gloves had surged 17% during that particular year.
"This outbreak is definitely not going away soon and could easily drag through another six to eight months," he added.
In a bid to contain the outbreak, Malaysia has pledged to donate 18 million pieces of medical gloves to China. Firms that will contribute include Smart Glove Corporation, Top Glove Corporation, Hartalega Holdings, and Kossan Rubber Industries.