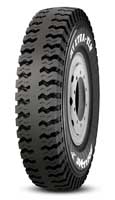 Indian tyre manufacturer JK Tyre & Industries (JK Tyre) has recently launched a new product offering for the light commercial vehicle (LCV) segment: the Jet Xtra XLM Tyre. The new tyre is adapted to the diverse Indian roads and is able to with stand extra loads thanks to a robust shoulder area and dual curb ribs at the side wall that protects it from various cuts and damages. In addition, the Jet Xtra XLM Tyre is made with a special tread compound and extra rubber mass in the center, which allows for cooler running and added mileage.
Srinivasu Allaphan, Director-Sales & Marketing, JK Tyre, commented: "With their unique build and resilience, the Jet Xtra XLM tyres are well-suited for intrastate and interstate travel and also to haul market load, industrial goods, construction materials, and fruits and vegetables, among others."
JK Tyre currently boasts a global presence in 105 countries across six continents, backed by production support from 12 plants – 9 in India and 3 in Mexico; the capacity across all its plants is about 35 million tyres per annum.
In other news, JK Tyre is aiming to reduce debt by banking on the export and replacement market which has seen significant growth due to new launches and network expansion. With a series of cost-cutting initiatives and expected improvement in capacity utilisation, CFO Sanjeev Aggarwal said the company is planning to pare its debt to more than half in the coming three years.
"We will look at reducing our long-term debts by 40% in three years; we think with higher capacity utilisation and growth in the coming year, we will try to accelerate the debt reduction further," said Aggarwal.
At present, JK Tyre is trying to break into the Eastern and Southern European market and penetrate deeper into Africa. Aggarwal also said that JK Tyre would need additional capacity to build market share, as its two-wheeler tyre capacity has already hit a 100% utilisation. An investment of about US$94.4 million was made into Cavendish Industries, acquired from the Birla Group in 2016, to expand the capacity of truck and bus radials by half a million tyres, which will be moved by a year.