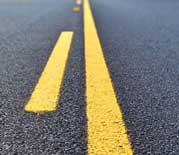 The Indonesian Public Works and Public Housing Ministry (MPWH) has planned to purchase at least 10,000 tonnes of rubber from farmers for use in rubberised asphalt, to help with the otherwise poor absorption of the commodity by the market amid the current coronavirus pandemic.The ministry's National Road Management Agency will buy the rubber from members of the Processing and Marketing of Processed Rubber Material Group of Farmers for use in several cities such as Medan, Palembang, Padang, and Balikpapan, according to MPWH Minister Basuki Hadimuljono.
"The purchase of this rubberised asphalt is part of the ministry's mitigation efforts to deal with the impact of the COVID-19 pandemic,"Hadimuljono said. He also revealed that MPWH had set aside some IDR 100 billion (US$6.71 million) for this purpose.
MPWH has frequently used rubberised asphalt for paving roads in various areas in Indonesia, including high-traffic road sections of Ciawi-Sukabumi, Ajibarang-Banyumas-Klampok-Banjarnegara, and Muara Beliti-Musi Rawas-Tebing Tinggi-Lahat.