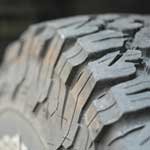 The declining demand in the automotive industry has not stopped the growth of India's tyre after-market, replacement tyres or exports – replacement demand has remained consistent, such that tyre manufacturers can keep production going.
According to the Automotive Tyre Manufacturers' Association (ATMA), the tyre after-market accounts for 50% of motorcycle tyres, 46% of passenger car tyres, 53% of light commercial vehicle tyres (LCVs) and 67% of truck/bus tyres, which together form more than 60% of total tyre sales. Unsurprisingly, tyre production has increased by 8% in fiscal 2018-19, as companies match their production to demand from vehicle makers.
Goodyear India Vice President, P. K. Walia, notes that the after-market is growing by a steady 4-6% due to robust replacements. Goodyear India admits to cutting back production to allow for reduced OEM schedules, but will not beterminating temporary working contracts.
The tyre after-market demand has also boosted sales in FY19, allowing the industry to post single-digit growth with an 11% increase in revenues, as reported by JK Tyre Marketing Director, Vikram Malhotra.
However,tyre companies remain concerned about raw material sourcing after the Kerala floods and the rupee depreciation, and so, expect raw material costs to pinch soon.
Malhotra said: "While the after-market segment and exports have helped the industry during the slump, there is still a shortfall in local natural rubber sourcing."