Tyre makers are affirming their commitment to sustainable natural rubber sourcing while helping weed out unethical and environmentally unsound practices across its supply chain, says Angelica Buan in this article.
Latex: milking the white gold
Increasing vehicle sales and expanding vehicle fleet size are expected to drive the global tyre market. Through 2022, the global tyre market is forecast to exceed US$319 billion, TechSci Research reported. This means more demand for natural rubber (NR) from producers, especially from Southeast Asia and South Asia, which accounted for more than 90% of the global rubber output. Rubber cultivation in the region takes up more than 8 million ha, with over 80% cultivated on small farms.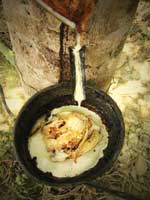 On the flip side of this surging demand, the situation is also eliciting illegal expansions of rubber plantations to meet the growing demand for latex, also called "white gold", used in tyres and other end user products. Some plantations are even encroaching protected and reserved forest areas.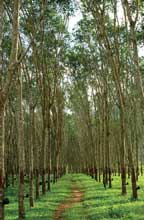 Global tyre makers, which consumed about 70% of the world's rubber supply, have earlier on recognised the environmental risk posed by the growing rubber demand. Thus, they crafted their respective sustainability agenda to stem these unethical practices.
In October 2018, a sustainable rubber cultivation platform, the Global Platform for Sustainable Natural Rubber (GPSNR), was formed to support the World Business Council for Sustainable Development (WBCSD)'s Tyre Industry Project (TIP), a global, CEO-led organisation of over 200 leading businesses, to improve the sustainability of the NR value chain.
Singapore-sited GPSNR aims to "harmonise standards to improve respect for human rights, prevent land-grabbing and deforestation, protect biodiversity and water resources, improve yields, and increase supply chain transparency and traceability".
Technologically tracking supply chain
GPSNR founding members, French tyre maker Michelin, and German tyre maker Continental AG, together with French software developer, SMAG (Smart Agriculture), have developed a technological solution for mapping sustainability practices in the NR supply chain. Through the joint venture they formed in Singapore, Societe des Matieres Premieres Tropicales, the partners will be deploying the technical platform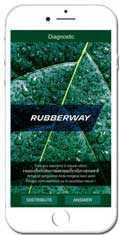 "Rubberway". The latter is a smartphone app that allows users to map and assess practices and risks regarding environmental issues, social affairs and corporate social responsibility governance throughout the NR industry, from rubber-processing plants downstream to plantations upstream, according to the partners.
The Rubberway app has been in use since 2017 and due for operation by year-end, the joint venture is expected to comply with the objectives of the GPSNR.
Michelin said the Rubberway app was developed to map the tyre maker's NR supply chain in different geographical areas. The technical platform already is used in some NR-producing countries, such as Thailand, Indonesia, Ivory Coast, Nigeria, Ghana and Brazil, Michelin said.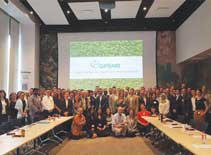 Continental's investment in the joint venture will go towards opening the path to wider use of the app by other tyre makers and car parts manufacturers. The project, it said, will benefit the NR supply chain comprised of an estimated 6 million farmers, 100,000 intermediaries and over 500 processing plants.
Scaling sustainability standards
Bridgestone Group, the world's largest tyre and rubber company and founding member of the GPSNR, has been enforcing its Global Sustainable Procurement Policy (GSPP), which aims to create thriving and sustainable supply chains, and ultimately ensure alignment with the company's use of 100% sustainable materials by 2050 and beyond.
Through a 2018 partnership with EcoVadis, a provider of sustainability, risk and performance ratings for global supply chains, Bridgestone monitors and rates the environmental, social and ethical performance of its suppliers to help identify and evaluate qualified suppliers, promote best practices, and serve as a communication and improvement tool for the industry overall.
Read more… here