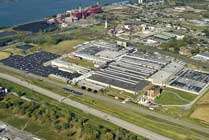 Sumitomo Rubber North America (SRNA) will devote a larger share of capacity at the Tonawanda plant, near Buffalo, New York, to Falken-brand truck tyres, which SRNA distributes. Sumitomo Rubber Industries Ltd. took over the plant from Goodyear in 2015 and had initially split its capacity between the Sumitomo brand and the Falken brand.
According to SRNA's Director of sales, Bob Klimm, the "aggressive growth plans" on the Falken TBR side is based that on the production capacity of the Tonawanda plant and increased future capacities. Currently, about 80-85% of its products come from Buffalo, which enables SRNA to get new products to the market just a little bit faster, and make any countermeasures or improvements/refinements in products a little bit quicker; the company also has at least 99 dealer customers to market to in the US.
"We decided to enhance and upgrade the product and do a conversion from Ohtsu over to the Falken brand, and then when we take it to market, to really concentrate on the premier regional, strong regional, bolt-on servicing dealers," Klimm said. "So eventually we could take it to the next stage when we go into fleet business that we have good coverage coast to coast. And that's worked."
SRNA has been positioning Falken to replace Ohtsu, which had been the company's primary brand for commercial tyres. The company still markets a range of Ohtsu-brand passenger and light truck tyre lines as a value-line brand, but is looking to expand the product line and add national fleet accounts "in a year or two."
Rick Brennan, SRNA's vice president of strategic planning, said SRNA is working on designing an all-weather passenger tyre, the first of a new segment of all-season tyres with improved winter driving capabilities and extended mileage. SRNA also plans to introduce an entry in the rugged terrain (R/T) tyre segment this year.
"Our target is to launch a new product in the 2022 zone that will actually provide a broader range of performance, a la more mileage and be able to have that mountain snowflake (symbol). We can provide a winter tyre but you don't get the mileage – and that's been the biggest challenge we've seen from all of the all-weather tryes is still falling short on mileage.
"Our new tyre will look a bit different than everyone else's. We probably won't launch all the sizes at once, given the nature of the tariff and the COVID impact on our business. But through the end of 2020 and 2021, we'll have a full lineup and we'll be going after it," said Brennan.