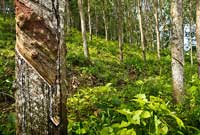 Natural rubber (NR) is an important raw material for the European tyre and rubber industry and a key enabler for several industries – especially automotive. The tyre industry alone absorbs about 76% of all the natural rubber produced globally. Today, there is no substitute for NR from hevea trees that could be used in all current applications.
Thus, ETRMA (European Tyre & Rubber Manufacturers' Association)  has welcomed the publication of the European Union's 2020 Communication on Critical Raw Materials, which includes NR in the list of critical raw materials. The only biotic material to be included, it was first listed in 2017.
The critical raw materials list reconfirms NR's priority status in EU policy and the importance of securing fair and sustainable supply of natural rubber for European industry. It also provides further support for ongoing industry research into alternative sources of natural rubber.
But as highlighted in the EU's foresight report, part of the Communication on Critical Raw Materials, the EU neither produces nor processes NR. This means that the EU is entirely dependent on imports, mainly from Southeast Asia and it is difficult to substitute NR through alternative sources or secondary raw materials, creating many uncertainties for producers and end users.
Under the framework of the European Innovation Partnership on Raw Materials in 2008, ETRMA says it is committed to diversifying supply: to reduce dependency on Southeast Asia and to grow research into alternative sources. Today, more than 20% of NR used in the EU is sourced from Africa and industry is researching how sourcing from dandelion and guayule – plants that grow in Europe – can be scaled to supply both tyre and non-tyre rubber industries. But, despite this progress, the sustainable sourcing of NR still remains a challenge.
"The recognition of natural rubber as a critical raw material for the second time is of great importance for our industry. It confirms the European Commission's ambition to support industry efforts to diversify supply, both by stimulating production beyond traditional producing countries and by increasing the scalability of the production of natural rubber from alternative plant sources of latex that could be grown in Europe," said Fazilet Cinaralp, Secretary-General of ETRMA.
ETRMA also hopes that the European Commission will continue to support public and private projects aimed at relieving the rubber value chain's import-dependency and carry on down the path towards diversification.
Meanwhile, ETRMA says the tyre industry welcomes the European Commission's ambitious goal to reduce greenhouse gas emissions by 55% by 2030. This announcement also affirms Europe's determination to continue striving for more innovative and sustainable mobility solutions to advance common interests. In light of the long-lasting impact of the Covid-19 crisis on European economy, including the tyre industry, the transition to a decarbonised and digitalised industry will need to support and strengthen Europe's successful economic recovery and global competitiveness.
The European tyre industry is ready to contribute to the decarbonisation goals announced yesterday. Mobility has a role to play as a pillar of this ambition. That is why ETRMA says its members have been committed to reducing their CO2 footprint throughout the tyre life cycle and investing in innovative and sustainable mobility technologies for many years now.
Tyre manufacturers have actively pursued steps to decarbonise their manufacturing facilities throughout the EU. They also play an essential role in greening the mobility sector, optimising tyre technology to improve vehicle's fuel efficiency and developing new digital services in transportation and tyre data solutions as an opportunity for economic recovery and sustainable mobility.
Looking towards the 2030 and 2050 goalposts, the tyre industry will continue building on these efforts and work closely with European and national institutions, according to ETRMA.
These goals cannot be achieved without close coordination between Industry, the European Institutions and Member States. This coordination between different levels of governance needs a holistic approach to the green transition by including clear policies on industrial competitiveness, trade, digitalisation, skills and mobility.
"To ensure that this level of ambition becomes a reality, it needs to be sustained by equally ambitious financial support so that the green transition is achieved without leaving anyone behind. We therefore welcome the commitment of directing 37% of NextGenerationEU to support green projects and 20% to boost digital transformation," concludes Cinaralp.