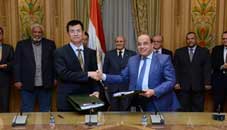 The Egyptian Ministry of Military Production have recently announced of a contract with Chinese manufacturer Poly Group to set up a passenger tyre manufacturing plant in Egypt. The new plant is to produce around 3 million tyres per year and will greatly reduce Egypt's dependence on imported tyres, which reached US$186 million in 2018.
The partnership follows increasing interest from Egypt in boosting cooperation with Chinese companies in the country – China Poly Group's representative stated that Egypt has the potential to become the company's industrial hub in the region.
However, the parties did not disclose information pertaining to tyre manufacturing technology to be used in the plant, which would be the second such facility in Egypt, after an existing plant in Alexandria, part of Prometeon Tyre Group.
China Poly Group is a state-owned enterprise operating in various fields including international trade, engineering services and real estate development. It was founded in 1992 and is based in Beijing.
The Egyptian Ministry handles the development and operation of military factories in the Arab Republic; within the Ministry of Military Production is a National Organization for Military Production, which currently supervises 16 factories producing both civilian goods and military products.