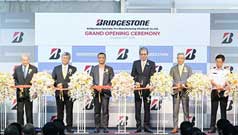 The Thai subsidiary of auto parts manufacturer Bridgestone Corporation (Bridgestone), Bridgestone Specialty Tire Manufacturing recently held an opening ceremony for its new tyre factory in Rayong Province, Thailand. The approximately 870,000sqm site is expected to have a production capacity of roughly 35 tonnes/day, to produce off-the-road (OTR) tyres for construction and mining vehicles and is the company's first Asian supply base outside of Japan.
In addition, the new factory will enable the Bridgestone Group to build a production and supply system that can cater to medium-to-long-term changes in demand and further contribute to economic and industrial development in the country,alongside a radial truck/bus tyre production plant in Chonburi in eastern Thailand.
Masahiro Higashi, Senior Vice President and Executive Officer of Bridgestone, expounded on their mission of 'Serving Society with Superior Quality' and said the company will strive to contribute to Thai communities by developing high-quality and high-value-added tyres for its customers.
Bridgestone supplies high-quality industrial rubber and chemical products and sporting goods for various applications across the globe – its most recent innovation involves barrier-less bus access for the athlete's village in the Tokyo 2020 Olympic and Paralympic Games.