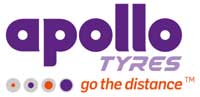 Indian tyre manufacturer Apollo Tyres (Apollo) will ease into the rapidly expanding Saudi Arabian tyre market following its partnership with local tyre distributor Al-Jomaih Tyres.
Sheikh Abdullah Al-Jomaih, CEO, Al-Jomaih Tyres, said Apollo could provide quality products for local customers -Apollo's tyres, mainly truck-bus radial and passenger car types, sold in Saudi Arabia will thus be customised to local requirements and be covered by a five-year warranty from the date of manufacturing.
Meanwhile, Shubhro Ghosh, Apollo's Head of ASEAN, Middle East & Africa, said the company aims to "capture a sizeable market share in the next couple of years" and has outlined an aggressive sales target of nearly 800,000 tyres annually, including both commercial vehicle and passenger vehicle tyres.
In addition to a hub for the Middle East and African region, which was set up in Dubai in 2011, Apollo expects its latest partnership to help position and expand the group's presence in the Saudi market.